Let's go back to Italy today. The Capo La Gala Hotel & Spa is a seaside dream there that boasts 5 star luxury from the heart of Sorrento Peninsula in Italy. It has a breathtaking view of the Gulf of Naples from its rocky shore that is adorned with the hotel's elegant spaces and modern, and refined comfort. This Mediterranean setting is the inspiration for this magnificent hotel that is spacious and furnished with ultimate style and your comfort in mind.
There are 22 rooms ihere with exquisite textiles, very unique furniture and everything you will need to make this an unforgettable vacation. Accommodations start with the Classic Room that is located in a separate villa for intimacy and privacy. This room is 20 square meters with A.C., Wi-Fi, SAT TV, minibar, phone, safe, and private bath.
The most exquisite room is the Marité Suite with 62 square meters of space with a luxury bath that is cut from the cliff. It has a sea view terrace, private outdoor swimming pool and private beach access. The beautiful bathroom also has a spectacular pool and sea view porthole. You also get standard amenities and more in this most exciting suite.
You are guaranteed to never be bored at this hotel with planned excursions to see the sights around the stunning Gulf of Naples, shopping in Capri, seeing the Amalfi Coast, Pompeii, or opt for some inside experiences. These include cooking classes, sunset drinks, and exceptional massages at Acquarium Spa by the hotel's wellness expert Christell. While you are pampering, remember to treat your tastebuds as well at Michelin Star rated Ristorante Maxi that is just steps from the sea.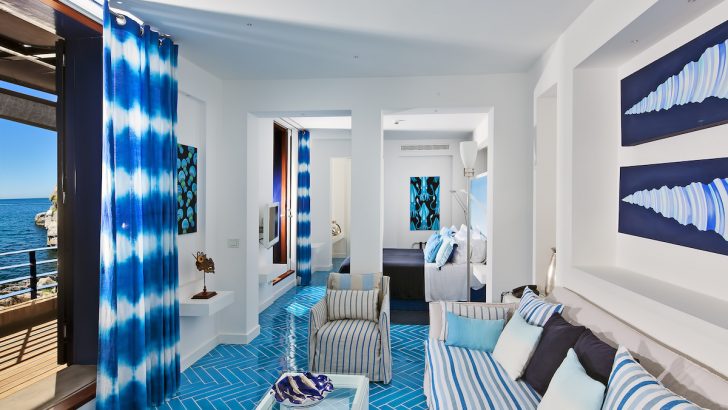 At Capo La Gala, you will also enjoy a breakfast buffet every morning, a beach-cliff bar pool with jacuzzi, fitness area and a terrace with breathtaking views. This hotel is nothing short of an Italian retreat that encompasses the culture and beauty of the region. If you would like to know more or if you are ready to book visit Capo La Gala at the link.