Tropical beauty is just one small part of why people love Fiji. This island nation hosts the wonderful Namale Resort & Spa. It happens to be referred to as the #1 resort in Fiji, and is also a favorite for some exclusive clientele. This all inclusive resort and spa is set on 525 acres of lush tropical land on Fiji's northern island of Vanua Levu.
The Namale resort is adults only, so leave the kids at home to enjoy this boutique setting. The staff here is friendly and exceptionally warm, making sure your stay is magical and one to remember. On this very special property there is luxury, and intimacy as the resort sits on the edge of a rainforest and the Koro Sea.
Imagine booking a room and seeing Oprah, Edward Norton, Russell Crowe or Donna Karan strolling through the lobby or sitting nearby while enjoying some of the delicious cuisine here. That scenario is very much possible, and the staff pledges to give them and you all star treatment, given by a world class staff.
There are 4 styles of enclosed luxury huts (bures), two styles of villas, and you can even rent the entire resort for your special occasion. For two, the Garden, Ocean, and Deluxe bures are perfect with king size bed, A/C, seating area, Wi-Fi, private deck, plush robes, fresh cookies daily, well stocked mini fridge, and laundry service as well. The Luxury Grand Villa is the most luxurious, and the only two bedroom set-up at Namale.
This villa has an entrance with two mini waterfalls, and a large wooden door that welcomes you inside. You are met there by a wonderfully furnished living room. It has views of the sea, library, dining table, kitchen, and a work station inside, and more outside. There, you enjoy huge deck with infinity pool, private shower, and hot tub with ocean views as well.
The term, all-inclusive means you get to-die-for cuisine, liquor, wine and even complimentary spa treatments. Round trip transfers to and from Savusavu Airport are also included. For the active side of you, visit and enjoy the excellent fitness center, go horseback riding, spend the day on the beautiful beach and swim in the clear, turquoise sea. Go bowling, play volleyball, go on a waterfall hike, or enjoy the beautiful swimming pools. On the beachfront there is kayaking and snorkeling equipment provided.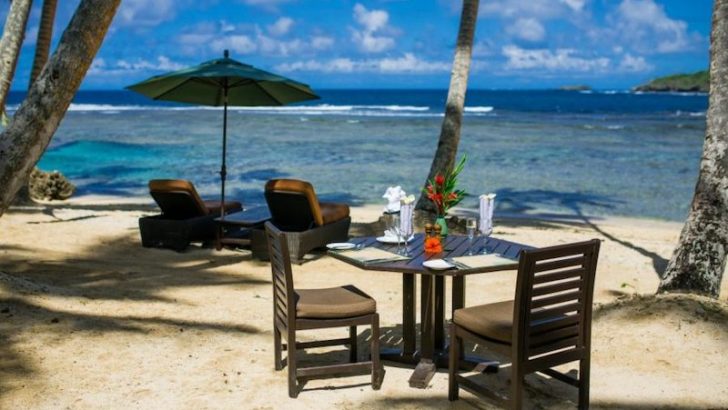 If luxurious comfort is what you seek, then book a flight down to Vanua Levu, Fiji and stay at the Namale Resort & Spa. You will get the sand, sun, and relaxation you need, and you may see a celebrity as well. Learn more at the link.