If you are a chocolate lover and in search of an island fantasy for your next getaway, the Boucan Hotel in Saint Lucia should be strongly considered. It is located on a hilltop, surrounded by jungle with breathtaking views of the stunning Caribbean Sea and the Petit Piton peak. Boucan also sits beside a cocoa plantation that hosts classes and tours.
The Boucan offers 14 exquisite lodges with a spa, beautiful gardens, free WiFi and a gorgeous 50 foot infinity pool that is lined in black quartz. Relaxing and sunning is a given, as the pool is surrounded by comfortable loungers and rockers and the poolside service will keep you supplied with refreshing cocktails.
All food is locally sourced and extremely fresh and the restaurant has 180 degree views of the Pitons with sounds of birds and tree frogs all around you. The restaurant also specializes in cocoa, of course, and most dishes have cocoa infused wine sauces and delicious infusions for homemade coconut breads.
The hotel bar serves many in-season fruit drinks as well as local beer, rum punches, wine and even a watermelon mojito. You can also enjoy chocolate infused cocktails while relaxing on one of the comfortable couches that face amazing sunsets.
There are many tours available at the Boucan including snorkeling tours, sunset cruises, volcano tours with a dip in the famous Sulphur Springs, walks along the historic Old French Road, chocolate plantation tours and walks thru the cocoa groves. Take a trip to Boucan for the luxury and to learn how the world's favorite dessert is made.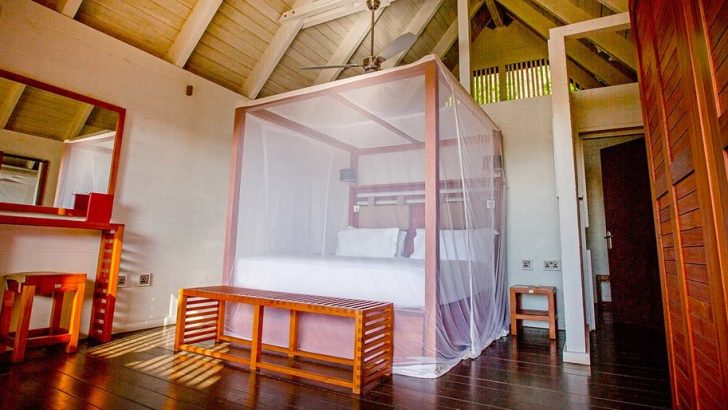 Images: Hotel Boucan & Restaurant