For those who live in America and dream of a far off vacation, but don't have the patience, or time for a long flight, the United States has its share of wonderful places to see that you don't need a passport to visit. One such place is Puerto Rico. This exotic island location is surrounded by the Caribbean and has rainforest, waterfalls, mountains, beaches, and historical buildings that transport you back to simpler time. The colonial buildings there are colorful and the capital San Juan hosts wonderful hotels, beach bars, native cuisine, and casinos to keep you entertained after you have experienced the wonderful landscape, and activities.
Some of the most exciting places to see are known for their breathtaking beauty and natural setting. Flamenco Beach is one of those. It has been included in several World's Best Beaches lists for its pristine waters and the feeling you get when you arrive and fly over the beach. the beach is complimented with delightfully soft sands, lush trees, and the backdrop of rolling hills in the background. No buildings are here and it makes Flamenco Beach a perfect place for romance.
If you long for a time when cavemen walked the earth, or you just want to explore how they might have lived, opt for a jaunt to Rio Camuy Cave Park. It is a cave system with its own underground river. Guided tours through these giant 200 feet by 170 feet caves are available and you can see stalactites, stalagmites, sinkholes, and other rock features that are approximately 45 million years old. The beauty does not stop there for Puerto Rico, neither does the adventure. You can explore above the canopy of this wonderful island at the Toro Verde Nature Adventure Park. Not only do you get to see the beauty of this massive nature preserve, you walk across immense suspension bridges, also get to ride The Monster, and the Beast, two of the biggest and longest zip lines in the Americas.
To continue your natural tourism in Puerto Rico, enjoy the El Yunque National Forest. Though it was damaged by recent hurricanes, workers have opened access to part of its 29,000 acres. It is the only tropical rainforest in the U.S. National Forest System and is comprised of the rocky Luquillo Mountains, 240 tree species, hundreds of small, non game animals, and 150 fern species. The lush El Yunque hosts around 600,000 guests annually who come to enjoy the ecological gem. Last but not least, you have to enjoy the the history of Puerto Rico. You can do just that at La Fortaleza and San Juan National Historic Site. At the UNESCO site, you can get a sense of what it took to protect the city and Bay of San Juan. Between the 16th and 20th centuries, the military built a wall and two forts that stands today as a testament to the will to protect this precious plot of land.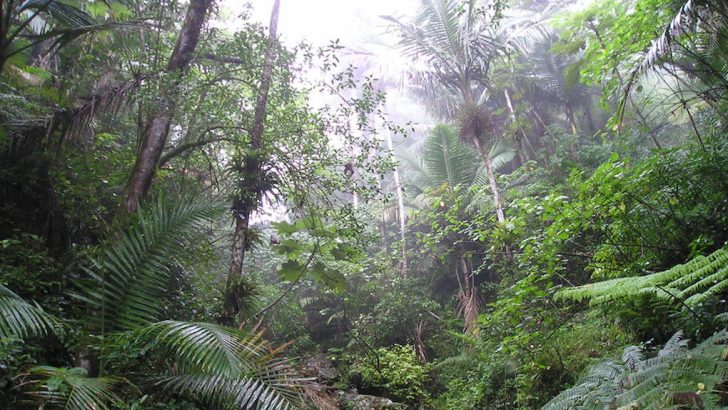 These 5 points of interest in Puerto Rico are just a few in the United States that await your visit. Stay tuned as we share more places for American tourism that you can visit for a world of fun, that is not a whole world away.