Santorini, Greece has long been a beloved destination for the rich and famous due to its breathtaking views of the Aegean Sea and the Santorini caldera basin. The Katikies Hotel there is perched on a cliff overlooking the these beautiful waters and is well known for bright white cottages and dual infinity pools.
The rooms also offer panoramic views of Santorini's stunning sunsets and amazing views. You also get bespoke service and high end accommodation options for a warm, and unparalleled good time at one of the best hotels in Santorini. There are 27 rooms here in 8 styles that each share a view of the Caldera from private verandas.
The most accommodating rooms for price and size are the Double rooms that start at 82 square feet. They have an open plan bedroom and a sitting corner that lets you see optimal views of the caldera while you enjoy your coffee, free Wi-Fi, or a good book.
The largest room is the Katikies Suite at 164 sq. feet. The bedroom for this suite is in the loft area. It has its own fireplace, dressing room, full living room, jet shower, 2 Jacuzzis, one inside, one outside, and private sundeck.
When you want to get out of your room, enjoy a food and wine tasting on the terraces here that will make your fine dining event magical. The tables here are candle lit and being so high in the air, the restaurant sits above the clouds and creates a mood beyond compare at Seltz and Mikrasia.
Enjoy fine champagne and Greek Anatolian foods at them respectively. For poolside bites, exotic cocktails, and classic drinks, linger at Pool Bar & Restaurant where the scene is vibrant and complimented by views of the caldera.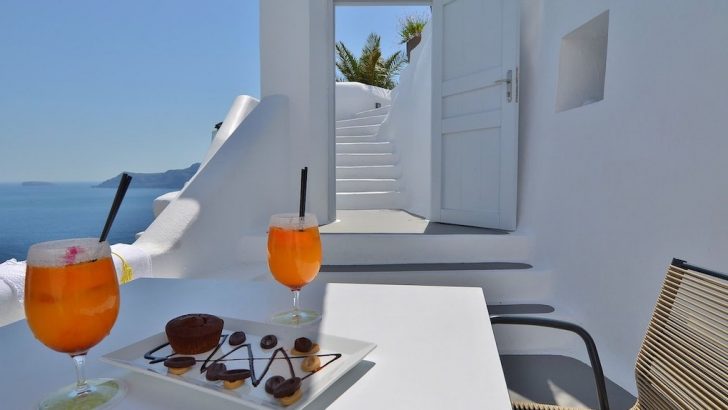 The Katikies Hotel is a unique and opulent stay in Santorini. The backdrop of the extinct volcano, and the opulence of the hotel will allow you to full immerse in yourself in relaxation at this Grecian paradise. To learn more about this hotel, experiences, dining menus and rates, visit the resort online at the link above.