Costa Rica may never be as romantic anywhere else than at Kura Design Villas. Though small at just 8 suites, this boutique hotel is big on comfort. Kura is located in the lesser known Osa Peninsula in the town of Uvita.
Its location along the South Pacific Coast allows for a growing food scene, unexplored jungle, waterfalls, sustainable living and wildlife like toucans and howler monkeys. There is also easy access to numerous national parks, coffee shops, foodie spots, and farmers markets nearby.
Even though it is in a private, hidden away area though, this chic getaway sits in a gorgeous rain forest and overlooks jungle lined beaches. To make things even better, Kura is totally solar powered, has awesome vantage points of the sunset, private terraces, two person hammocks, and poolside loungers that allows you close enough to hear the forest animals call out. You might also get a rare glimpse of whales passing in the distance. The rooms here have an open concept and you will enjoy the utmost in privacy, as this is an all adult resort.
The 8 modern suites here are all-luxury, but also minimalist. They feature 180° rainforest, and ocean views with expansive terraces. There is also A/C and ceiling fans, mini bar, a wine fridge, coffee nook, spacious dressing areas, king-sized beds, WiFi, robes, organic toiletries, and binoculars to look over the jungle and ocean. There are three styles of suites here including the Master, Infinity, and Junior Suites that range from 740 sq. feet, to 1500 sq. feet.
For the ultimate in romantic luxury, choose the Master suite that has its own plunge pool with additional lounge space, and a mountain top view. It is a suite that lets you see everything. The Master Suite is perfect for two to enjoy a luxury honeymoon or a wedding. Guests can even reserve the entire resort for a friends' retreat with the Kura, All to Yourself Package.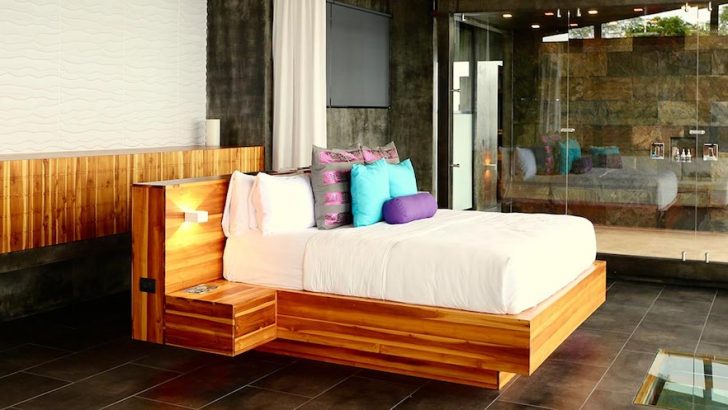 To fill your tummy, Kura makes your dining sophisticated and of course delicious. The cuisine here focuses on super fresh seafood with sustainability in mind as well. Non-seafood meals are hormone-free, grass-fed and all ethically-raised, just down the road. So there you are, Kura Villas in Costa Rica offers comfort, adventure, and romance in a luxury boutique setting. For rates, and more information about this exemplary resort, visit them online at the link.