Costa Rica is a beautifully natural country in Central America. Its name literally translates to Rich Coast and once you visit, you will see that it is indeed rich. It gets around 2.9 million visitors annually who come to enjoy the ecotourism, especially the cloud forest at Monteverde. This forest is home to 2500 plant and animal species, of which 400 are exotic birds.
If you wish to see all the beauty and experience the relaxation that Costa Rica possesses, a great launching point is Latitude 10° Beach Resort in Santa Teresa. This boutique haunt is just steps from the beach, and is super exclusive with just 5 private, and open air casitas.
Guests love waking to the sound of nature, and the ocean lapping at the shore. You'll fall asleep nightly to candlelight, and explore the grounds at night with torches, as not to disturb the balance in your wonderful casita that is all luxury inside.
Your private casita at Latitude 10° will have ceiling fans, turndown service, Wi-Fi, minibar, organic toiletries, open air bathrooms, and spacious rain showers. There are three styles of rooms here including the Guestroom, Junior Suite, and the Master Suite that is 484 square feet that is right on the beach, and primed for awesome sunset views from your room's hammock.
While you are not in your room, fun is in order. You can book a tour of the Curu Wildlife Reserve and see biodiversity at its best. You can learn to do yoga, zip lining, snorkel, make ceviche, have dinner on the beach, or learn to surf. So if you need to disconnect from everything, and come back to yourself, the Latitude 10° Beach Resort is the exact right place to do it.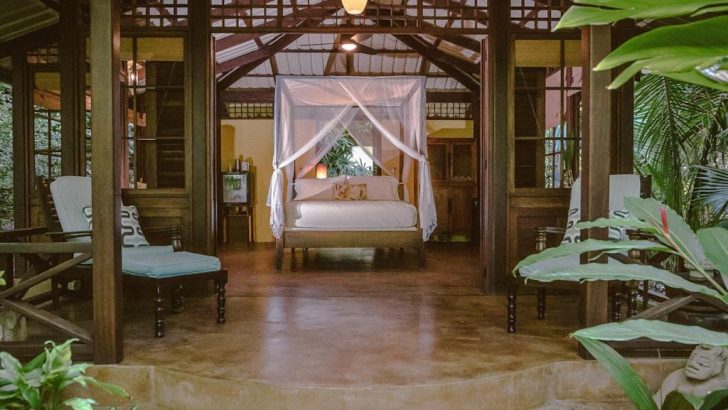 Images: Latitude 10° Beach Resort