All of the world class resorts are not abroad. For example we found this gem of a resort in northern Idaho. The Coeur D'Alene Resort shares the great things we enjoy about America, like the lakes, and hospitality. This resort pushes these things to levels of outstanding luxury that one would expect in an exotic location.
Coeur D'Alene Resort lies on the north shore of Lake Coeur D'Alene that was said by National Geographic magazine to be one of the most beautiful lakes in the world. Since 1986, this resort has become a top travel site for those who come to embrace the Pacific Northwest.
This invigorating resort has 6 room styles including the Jaeger Suite that is an 18th floor room with 1500 square feet (139.35 m²) of roaming room. It has king bed, large soaking tub, in-mirror TV in the bath, separate living room, fireplace, wet bar, and two large balconies with amazing views.
There is room service but you want to try many of the 11 options for food and drink at the Coeur D'Alene Resort. For a quick pick me up shot, try the Cafe Espresso & Juice Bar that serves specialty coffees, kombucha, seasonal juices, fresh fruit, and breakfast parfaits.
For a hearty bite, we suggest Beverly's. This is one of America's top restaurants that sports the Pacific Northwest's largest wine cellar. It shares great vistas and signature dishes like the Pork Tomahawk Chop, Chilean Sea Bass & Prawns, and a chilled Seafood Tower for 4.
Coeur D'Alene Resort is tall on fun too. There are spa treatments, facials, tanning, and makeup services too. If you are a water buff, take that well massaged body on a lake cruise, or take to a kayak and explore the waters. Golf lovers will also not believe one other amazing feature at Coeur D'Alene Resort…
The Floating Green! It is a golfing hole that floats and changes position with guided underwater cables. Guests try to land their ball on the island that moves from 90 to 220 yards (0.2 kilometers) from the main tees. Coeur D'Alene Resort is a place of luxury, comfort, fun, and wonder. Start at the link above to plan your getaway to this refreshing stay in the Pacific Northwest.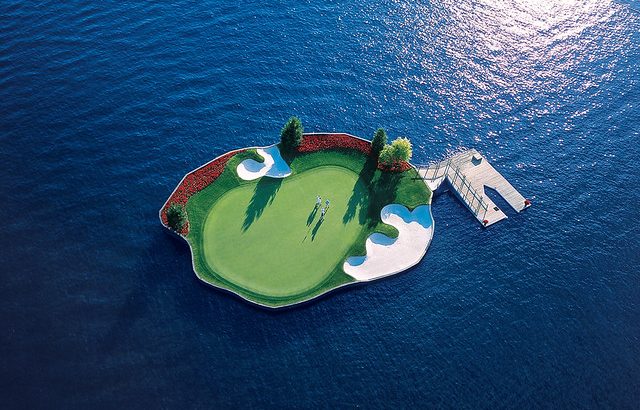 Images: Coeur d'Alene Resort