If you seek opulent accommodations, island luxury, and amazing dining, find your escape at Scrub Island Resort. Part resort & spa, part marina, this British Virgin Island getaway takes full advantage Scrub Island's privacy. The BVIs are made up of 60 islands including Scrub Island that are untouched, and consistently rated as a premiere destination by travel publications.
There are pristine beaches, cerulean waters, pleasant weather, and a spirit of fun in the air at all times. The Scrub Island Resort has 26 ocean view guest rooms, and 26 ocean view villas in different bedroom configurations that whisper boutique luxury. The resort touts gentle breezes, soaring ceilings, private balconies, and an overall peaceful time.
The villas here come in 2, 3, or 4 bedroom floor plans with gourmet kitchens, and a terrace that is expansive enough for your entire party to enjoy. One of the finest villas is the Reef House that overlooks one of Scrub Island's largest reefs. It has a large living room, elevated dining area, and unforgettable views of Scrub Island's places of interest.
Villa amenities include master suites, each with a king-size bed, large bath, and separate seating area, bathroom with walk-in rain showers, soaking tubs, double-sink vanities, and private water closets. The full gourmet kitchen has a raised marble breakfast bar, and the living room opens to the main terrace. There is a separate dining area, private plunge pool, or an infinity-edge pool. There is also a comfortable outdoor entertainment area, superior appliances including dishwasher, washer/dryer, stove, and Sub-Zero refrigerator.
The other rooms and suites have comparable amenities and you also get to enjoy the 55 slip marina, the Ixora Spa, and incredible dining options. You can enjoy continental classics and drinks at the Caravela, casual outdoor dining at Tierra! Tierra!, dining on the beach at One Shoe Beach Bar and Grill or just relax with a superb cocktail at Freebooter's Bar. In the morning you can visit the Gourmet Market and Cafe' for morning coffee and pastries or for lunch.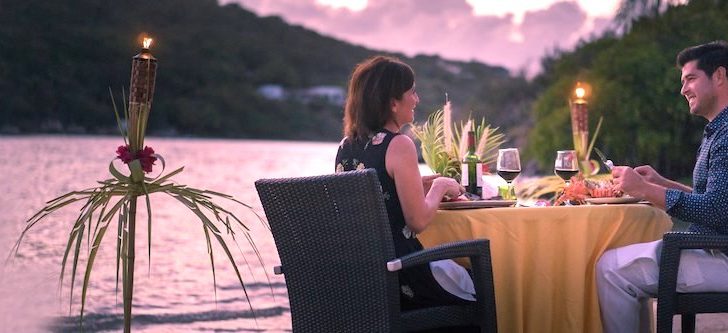 Activities include a multi-tiered pool with waterfalls, fitness room, nature hikes, snorkeling, secluded pool on North Beach, dive shop, boat rentals, fishing charters and sea kayaks. You can also do nothing and relax on one of the many lounge chairs in the relaxation areas. If that sounds like the perfect getaway for you, see rates, and more at the Scrub Island Resort link above.