The Maldives is a tropical nation made of 1000+ coral islands. The ocean is endless, and the turquoise waters are shallow enough to wade far out to see just how beautiful the area is. Sun Aqua Iru Veli Resort takes full advantage of the brilliant Indian Ocean, the blue lagoons, and the impeccable white sands you find here.
Guests also visit for the fresh food markets, to shop the colorful streets of Maafushi, swim with whale sharks, island hop, see the sunsets, and witness water phenomena like glowing plankton, and mass gatherings of manta rays.
At Sun Aqua Iru Veli Resort, renovated and reopened in December 2018, you will be in the middle of all this glory on a private guest only island. Your beach side or over-water suite will have amazing ocean views, and a private freshwater pool. Each suite also has chic interiors, and comfort in the form of luxurious bathrooms, decadent spa products, comfy beds, and plush linens. There are also more than 10 room configurations to suit your fancy.
There are five Beach Suites that are decorated in tropical colors and look directly out to the ocean. These spacious rooms have relaxing furniture and are as inviting as the beach they sit beside. Over-water suites come in four choices that sit above this island's lagoon. These suites serve as private sanctuaries in which you can focus on the soft sounds of waves beneath you as you enjoy equally luxurious decor. Additionally, the most lux option at Sun Aqua Iru Veli Resort are the Premium Suites that will make you feel right at home.
For eats, there are six restaurants around the Iru Veli Atoll that range from contemporary foods, to Maldivian traditional food, and spirited wine and champagne lists. You can enjoy cocktails at Chemistry or enjoy sunny poolside drinks at the Fresh Water Pool Bar as well. Let's not forget about the Sun Aqua Spa that also lies above the lagoon. Total serenity is the staff's pledge to you as they use natural and eco-safe ingredients to restore you.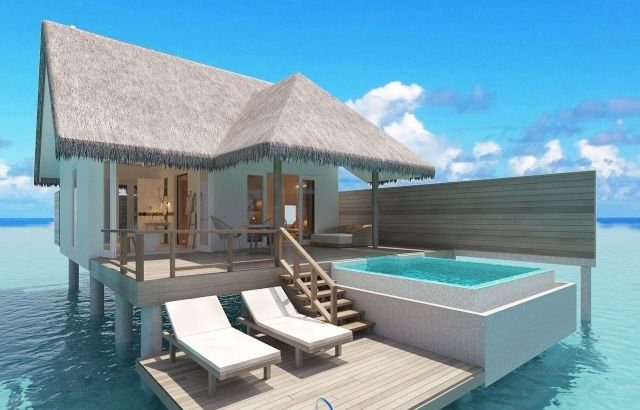 For the active part of you, enjoy the pool, table games, tennis, volleyball, windsurfing, jet skis, paddle boards, fishing, and excursions. There is diving, snorkeling, and other water sports as well. For the productive side of you there is laundry service, WiFi, in-room dining, babysitting, currency exchange, and a multilingual staff. So you see, everything is covered at Sun Aqua Iru Veli Resort. Check the link for rates, and more.