Los Cabos is a great place for all to come bask in the sun and have fun. It is a perfect getaway for vacation, romantic getaways, families, business retreats, and water activities. When you get here, you will marvel at how much there is to do, like shopping, dining, and nightlife. You will always remember the beaches here, enjoy the many spas, and up your golf game at impressive courses.
For the sporty type, take part in world class fishing, and experience awesome awesome views while you are at it. Tesoro Los Cabos Hotel is an option to stay in Los Cabos that is upscale, and one of the most ideal places to stay for selective travelers. This hotel has top of line amenities, an awesome location, and perhaps one of the best pool decks in all of Cabo.
Chose from four room choices that include the Standard City View, Deluxe Marina View, Junior Suite and the most comfy, the Master Suite. Each room includes breakfast, and in the Master Suite, you get a king size bed, and a small sofa bed in the room. It has spacious balcony or terrace with expansive views of the Cabo Marina and the Sea of Cortez. It also has a Marina view, and sleeps 3 comfortably with 450 sq. feet of space
Amenities here include the aforementioned Skypool. This pool has come to define the party scene of Los Cabos with drinks, music, and a backdrop of the Pacific Ocean and the Sea of Cortez. If you go extra hard at the bar, or during water activities, you can make an appointment at Aura Spa for simplest of treatments like a foot rub, or back massage or go full out with a detox treatment that will improve circulation, and muscle tone.
Hungry? Well of course you have to eat. Your room will come with free breakfast but The Lighthouse, Agave Azul, and VistaRoof Restaurant. Each of these dining options offers signature dishes, and familiar favorites with a personal touch for a unique eating experience that is perfect for your mouth's delight. Each eatery has great ambiance, day or night and are perfect for people watching or just having a relaxed time with a dear one.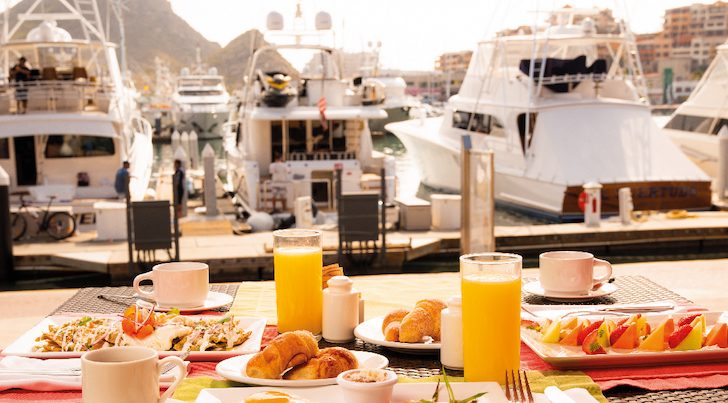 There are many things to do in Los Cabos and even more to do when you check into Tesoro Los Cabos. Seniors, U.S. Army members, and others get special rates. To see if you can get a discounted stay or for rates visit Tesoro at the link, and unlock the door to fun in Mexico.