Get carried away in the Miami lifestyle when you stay at the Five-Star Mandarin Oriental Hotel. This hotel offers tranquil opulence on the beautiful, blue Brickell Bay in downtown Miami. Not only do you get to relax at this luxurious hotel, you can enjoy all things Miami.
There are endless days at the beach because the temperature is wonderful year round, shopping galore, a fusion of different foods, and outdoor excursions like jetskiis, parasailing, and rides though the Everglades on an air boat.
Single people, and partiers love the nightlife here, and there are options to do everything you want luxuriously. You get to enjoy Cuban culture, take a helicopter tour, and enjoy the wonderful art and architecture. The Mandarin Oriental Miami can help assist you in planning an exceptional time in the city. However, if you just came to relax you can enjoy spa treatments, room service, rooms, and suites that let you rest in opulent style.
Each room here at the Mandarin Oriental Miami, gives stunning views of Biscayne Bay and downtown Miami. They provide exotic relaxation along and all the fun that goes with visiting Miami. There are 5 room styles with the Junior Bay View Suite being the most well appointed. It has floor to ceiling windows, private balcony, sitting area, desk, and bath with walk-in shower.
In addition to the rooms, there are 7 suites that make you feel like the special guest that you are. The Mandarin Presidential Suite is the ultimate suite that has its own kitchen, dining room, master bedroom, balcony, private spa room, and exercise bike. The Oriental Penthouse Suite could take the lead for a romantic getaway to Miami. This suite has one bed with balcony, kitchen and dining for 8. It has a top notch media room, walk in closet, oversized shower, and is reserved by request only.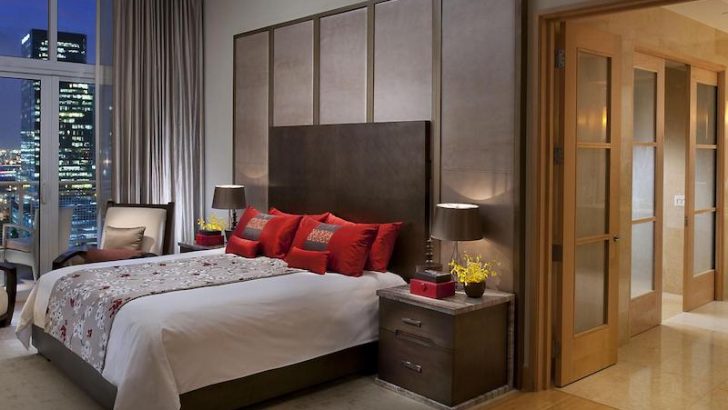 The Mandarin also has a beautiful infinity pool, private beach with hammocks, chaise lounges, cocoon daybeds and private cabanas with the latest tech gadgets. There is also plenty of sun and a pristine beach for you to relax and soak up the Florida sun. So when you find that you have business in South Florida, or come to relax here, be sure to get the most out of your stay with Mandarin Oriental Miami.