Las Vegas is quite the place to stay for mostly anything you want. Especially adult fun. There are bars galore, gambling, variety shows, copter rides, and all the luxury you can bare. Not to mention the perpetual warmth, the beautiful mountains juxtaposing the desert, and incomparable shopping.
This place is meant for judgment free enjoyment and the Delano Hotel in Las Vegas helps guests balance their fun with great room rates, luxury, and a location near quintessential Las Vegas. The Delano is a stylish boutique that provides refreshing desert luxury, with friendly staff, quiet bedrooms, and modern baths in an 1117, all-suite hotel.
There are 7 suites here including King, Queen, Strip View, Scenic, Two Bedroom, and Penthouse styles. The King Suite offers 725 sq. feet of space, two flat panel televisions, a luxurious bath, with living room, wet & mini bars, and Wi-Fi. On the other end of the spectrum, the Penthouse offers 1642 sq. feet of glory with views of the strip, the beach, and the surrounding mountains.
Amenities at this desert oasis include a dog menu for your little buddy, The BATHHOUSE Spa & Gym, trips over the desert in Maverick Helicopters, outdoor cabanas, rotating art exhibits, transportation to explore, tours of the greater Las Vegas area, and Nevada as well. The food at the Delano and the surrounding area is awesome, and we recommend Rivea that offers French and Italian cuisines that utilize seasonal ingredients from the West Coast.
You don't miss out on the nightlife here either. Just steps from the Delano's lobby, the Strip is alive, bustling, and waiting for you to experience street entertainers and spots to dip into for a quick game of blackjack, or slots.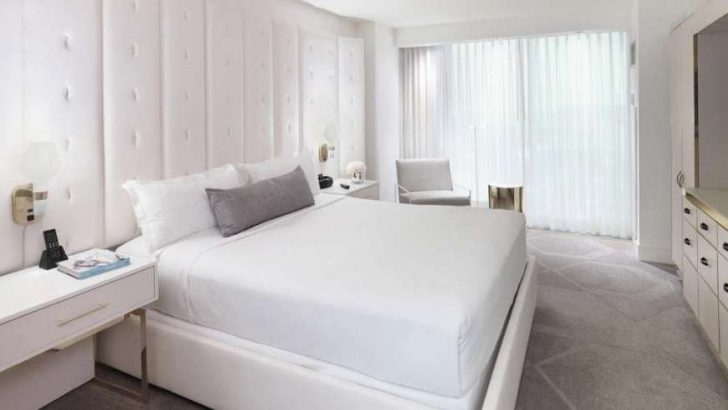 The Delano Las Vegas is a classy hotel that is dressed for the occasion in natural stone decor, sheer curtains, and a breezy attitude that defines Las Vegas. Visit Delano at the link for rooms, rates, and more information on this sophisticated hotel.