The Golden Land, and the Land Down Under are a couple of terms used to relate to Australia. The people there are full of zest and vigor for life that shows in their customs, the way they talk, their cuisine, and their lifestyle. You can ride the world's largest trams and canals and enjoy a landscape of sinkholes, stromatolites, and stone pinnacles. Not to mention adorable koalas, kangaroos, and wallabies.
On your quest to the this golden land, you should make Southern Ocean Lodge the place you stay. It is Australia's first true luxury lodge, and it offers a unique travel experience. It serves as a sanctuary for comfort that defines a new level of Australian service. You will love your location that overlooks the Southern Ocean, and wilderness where kangaroos roam freely.
Southern Ocean Lodge has 21 luxurious suites that all have wonderful amenities. The views are great from every room, with king size beds, glass walled bathrooms, and spa grade bath products. Enjoy the outdoor terrace, and drinks from the mini bar in your room too. The floors are heated, and of course there is Wifi, music system, and TV.
Five floor plans include the Flinders Suite, Ocean Retreat, Ocean Premium, Remarkable Suite and the Osprey Pavilion. We recommend the 120m² Remarkable Suite that has floor to ceiling windows for exceptional views of the surrounding sea and peerless sky. This modern suite is perfect for two, or three. It has an EcoSmart Fireplace, homemade timber bathtub, and a large ensuite bathroom. To enjoy the Southern Ocean views, there is a large outdoor living area with day lounger, and private spa bath.
Breakfast, lunch, dinner, snacks, and drinks are served here with a produce-to-plate vibe. The menus here honor local and organic foods and wine. Each is proudly produced by artisan farmers and Australia's favorable climate. For breakfast, watch the coast come alive with a selection of fresh fruit and breakfast foods. Lunch is more substantial with fishes, salads, and steak, while Dinner is refined with seasonal choices that are crafted by Executive Chef Asher Blackford.
The Southern Spa is a even more peaceful oasis that infuses your relaxation with Australian made products. Relaxing while overlooking the brilliant landscape is next to none, and may be welcomed after outward bound experiences like wildlife encounters, sea lion spotting, food tastings, and local art shopping.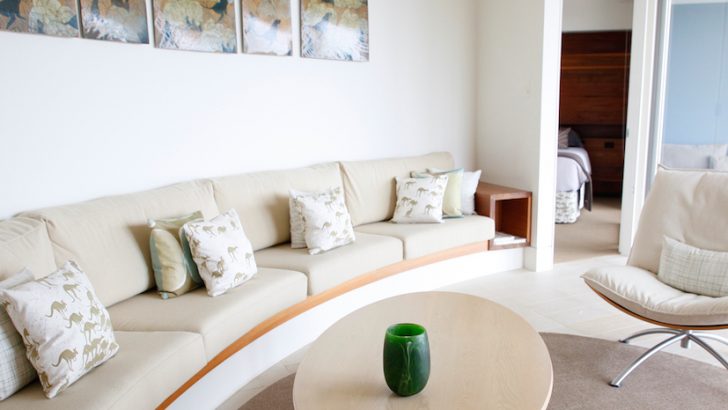 Southern Ocean Lodge has the bases covered and for you who seek adventure in a getaway, this lodge makes doing so, a breeze. Visit at the link for rates, and more information on an unforgettable stay in Australia.