Few people talk about a great vacation in Haiti, but it exists. For all the same reasons you would visit the Dominican Republic, you will love the Royal Decameron's Indigo Beach Resort.
Considered a jewel of Haiti, this resort is 136 acres of nature reserve with 1 mile (1.61 km) of blindingly white sand, and deep, blue sea. This is a true paradise located on the Arcadins Coast where you find a mix of history, music, and carnivals.
When you visit, enjoy balmy 86 degree temperatures and the historic center of Port Au Prince. You can also take a tour of rum distilleries, take a dip in the waterfall and springs, and traverse the mountain ranges that divide Haiti and the Dominican Republic. When you choose the Indigo Beach Resort there are tons of on site and off site activities, food, bars, sports, and shopping too.
There are 400 luxurious rooms at Indigo. All them share wonderful views of either the sea, the garden, or pool with balconies all around. There is a 3 person max per room with A/C, Cable TV, bath amenities, and a mini fridge. Of course, you can't keep dinner in the mini fridge so you will enjoy the many options for food here.
Le Grand Marche is a buffet style restaurant that serves international fare from 7am-10pm daily. Le Casserole Hatienne is an a la carte restaurant that specializes in delicious Haitian Fusion Cuisine with snack bar service all day. For a taste of the sea, enjoy a la carte seafood from Le Boucanier. To wet your tongue, enjoy the Bon Bagay Bar, and the Chiringuito Bar, and nightly dancing at the Discotheque night club. To wet the rest of you, there are 2 adults only pools, as well as 2 kids pools.
If you need help relaxing or soothing an achy body, take a visit to the Hibiscus Spa that has a special treatment for whatever ails you. For the high energy person there are watersports, tennis courts, a golf range, soccer, basketball, volleyball, and gym. There are also excursions to explore greater Haiti through Decameron Explorer Tours. If you would like to end your day with a movie outside of your room, there is also a theater in the central lobby of the Indigo.
If you have ever wondered or dreamed about a vacation in Haiti, Royal Decameron's Indigo Beach Resort is here to introduce you and give you the luxury vacation you deserve. Visit Indigo Beach Resort at the link above for more information, rates, and occasion planning.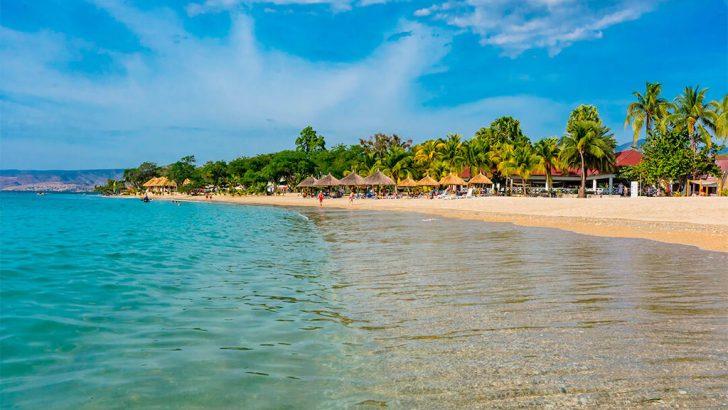 Images: Indigo Beach Resort