If an intimate time on a small island in the Bahamas sounds great to you, then we are just getting started about all the good things you can experience at Kamalame Cay Boutique Hotel. Lying along the Andros Great Barrier Reef, you can have it all at this 70 guest limited, private island.
The beach rooms here are covered in flowering bougainvillea, and placed on a more than 96 acres island with jungle, coconut groves, and a solitary beach. Kamalame Cay wants you to focus on you, and your relaxation so there are no televisions, and limited Wi-Fi. You will not mind though once you relax and hear of the activities available to enjoy at this Bahamian locale.
There are 27 room options in 5 styles at this hotel, that are decorated in the Balinese tradition. The rooms open up to refreshing air breezes, and the most spellbinding sea views. What is even better, each room has its own direct beach access. Kamalame is also eco friendly, using solar energy to power many happy getaways to this private island.
Rooms include the Beach Bungalow, Beach Room, Beach Suite, Cottage Suite, and the Pigeon Plum Cottage Suite. You can also opt for a villa that has full space for you and your loved ones. There are an additional 7 villas that feature wrap around verandas, full kitchen, 2-4 bedrooms, and outdoor living space as well. Spaces range from 200 square feet all the way up to 2600 square feet for room to roam.
Services at Kamalame Hotel include laundry service, delicious food, cocktails, excellent wines, amazing spa, tennis court, a beautiful heated fresh water pool and a self service tiki bar. For dinner, head to the Great House Restaurant serves fresh, modern Caribbean cuisine with seafood and locally grown ingredients. You can even arrange a private, candlelit beach dinner or a romantic drop-off picnic on a neighboring island.
For adventure beyond the resort, take a sunset cruise on the Sand Bar Sally, explore the mangroves on a kayak, go deep sea fishing, or snorkeling on Staniard Rock. You might be game to explore Rat Cay Blue Hole, or go scuba diving with your own private boat too.
The stunning beach is three miles long, so you can take some amazing beach walks, take a seaplane safari, or sit on the dock and relax with a cocktail. Kamalame Cay is all about relaxation, and if you are too, follow the link above to a wonderful Caribbean adventure.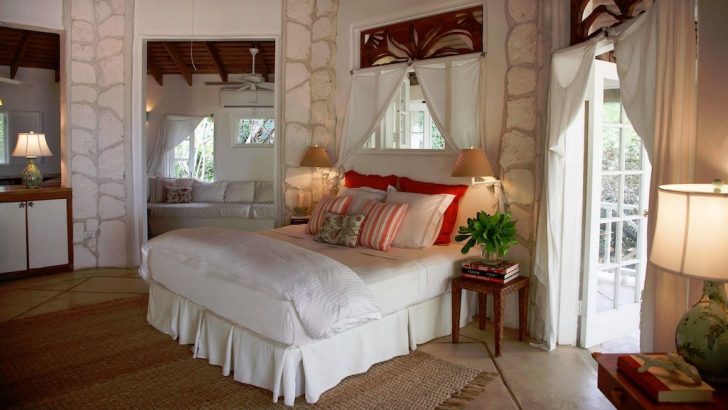 Images: Kamalame Cay Hotel Bahamas