For architecture buffs, the Huzhou Hot Spring Resort in China draws many people to not only its unique architecture, but the awesome stay you will enjoy there. The resort is 27-stories tall with two towers that meet at the top to create a ringed hotel that defies gravity to an extent. It even has its own private beach, among other facilities that are especially built for your stay.
The Crystal and Jade Towers rise over Tai Lake and offer fantastic views of Huzhou. The 100-meter towers offer 281 rooms that are luxurious to suit the needs of the most discerning world traveler with spa, restaurants, a grand ballroom for conferences, and a wedding island for those who come to marry and honeymoon here.
The rooms here all have a lake view with free intertnet, private balcony, and views from the hottub. The beds are super comfortable and free bottled water is offered in the 16 room styles at Huzhou. For the contemporary couple, choose the Studio King Suite. It is 732 square feet of room with a living area, marble bath, separate shower, double lighted vanities, L'Occitane toiletries, robes, slippers, 40″ plasma TV, satellite, and 24-hour room service.
Step outside of your comfortable room for a dining here. Although you can have room service, eating Cantonese in China is gonna be a treat for you. Yue serves Cantonese in an upscale setting, while Sunset Bar offers beach side BBQ. For Pan Asian cuisine, Starlight Kaiseki Chuan offers great bites with a panoramic lake view. If you are a burger kinda person, Feast Signature restaurant serves a variety of international cuisines.
If you want to work it all off, this Sheraton Resort has a 24 hour fitness area with cardio and free weights. You can also enjoy indoor and outdoor pools, as well as a whirlpool. There are jogging trails, bike rentals, mountain hikes, and table tennis to get your heart rate up. If you want to relax to your room, that is perfectly fine too. The Sheraton Huzhou Hot Spring Resort is a great spot to have your first or 50th stay in China. Learn about rates, and more at the link.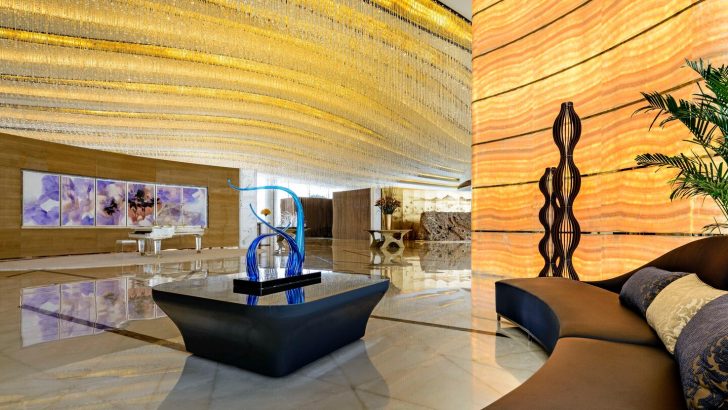 Images: Sheraton Huzhou Hot Spring Resort