The Bahamas are a wonderful group of islands that get roughly 6 million annual visitors. The islands are ideal for scuba, and snorkeling for their location near the Andros Barrier Reef. There, you can find elaborate corals, and the setting for some James Bond movie scenes.
What makes the Bahamas really wonderful though is the beautiful setting and the island spirit that the people impart there. You truly experience a "One Love" feeling there, and Marley Resort & Spa in Nassau Bahamas is the best place to get it in droves.
This resort once was the vacation getaway for Bob Marley, and a Governor's mansion before that. You really get a history lesson staying here, as well as walk the grounds that the reggae legend called home. This resort backs up to the ocean with a private beach area, and the rooms have personal portraits of the Marley family.
Each room here is named for, and themed after Bob Marley songs, in 6 styles. Garden Rooms, Garden Suites, Double Master Suite, King Master Suite, Royal Suites, and Honeymoon Suites have names like Jammin', Mellow Mood, and Positive Vibration.
They all have hand carved doors, hardwood floors, Moroccan Rugs, mahogany furnishings, and bright mosaic tiles. Soft, crisp bed linens and rainfall showers add to the awesome experience.
Amenities here include the Natural Mystic Spa where you can get a spirited island massage. You can also enjoy excursions in which you can swim with the dolphins, even visit nearby islands like Big Major Cay to swim with pigs.
We've mentioned scuba, and snorkeling of course but the Marley Resort has several free form pools on site to let you fully embrace a sunny disposition. If your tummy grumbles, Simmer Down Restaurant offers delicacies prepared by local chefs, complimented by ocean views and meals created by award winning chefs.
Be sure to stop at Stir It Up Bar for a quite tasty rum punch or what have you, and sum your trip up with a trip to the Bob Marley Music Gallery. It features memorabilia and a story to take home. Learn more at the link about this relaxing, and fun resort.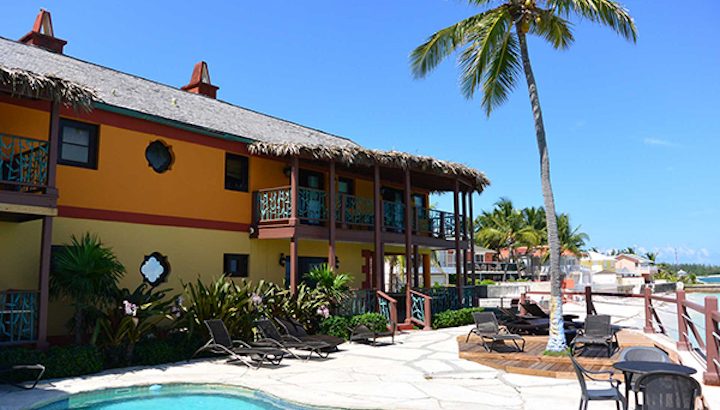 Images: Marley Resort & Spa Bahamas