The Aruba Hyatt Regency Resort is located on Aruba's best strip of beach. It is one of the top hotels on the island, with some of the most beautiful sunsets in the world. This luxurious resort also has the hottest casino in all of Aruba.
The architecture here is Spanish influenced with warm inviting colors. There are also amazing views from each room of Palm Beach, and out beyond the Caribbean sea.
The 359 guest rooms here are outstanding as well. They have been newly renovated, are all spacious, and luxurious with free Wi-Fi, fine toiletries, plush linens and pillow top beds you can sink into. There are 6 rooms styles including the Ocean Front Luxury Suite.
This is a timelessly designed 1850 square foot (ca. 172 m²) suite that comes with one, two, or three bedrooms. This room is fully equipped with an 8 person conference table, full bath with stall, and steam showers. separate bathtub, and a furnished balcony that runs the length of the entire indoor living area with incomparable views of the Caribbean.
Service is impeccable at the Hyatt Regency Aruba and the activities are endless. You can take a scuba diving expedition, take a ride on a banana boat or go sailing on a catamaran, play golf, relax in the luxurious spa, lay back on a comfortable chaise by the pool, or relax on the pristine beach.
For amazing activities, arrange a tour with the front desk. You can see all the sights including local landmarks, shopping, and other beaches of interest in Aruba.
For entertainment inside the hotel, get a massage or enjoy dining at the Ruinas del Mar. There is an arcade with almost any amusement you can think of, including ping-pong and of course you have to try the famous Aruba Hyatt Regency Casino. Aruba is beautiful, and when you plan a visit here, consider this amazing resort that makes your relaxation a breeze.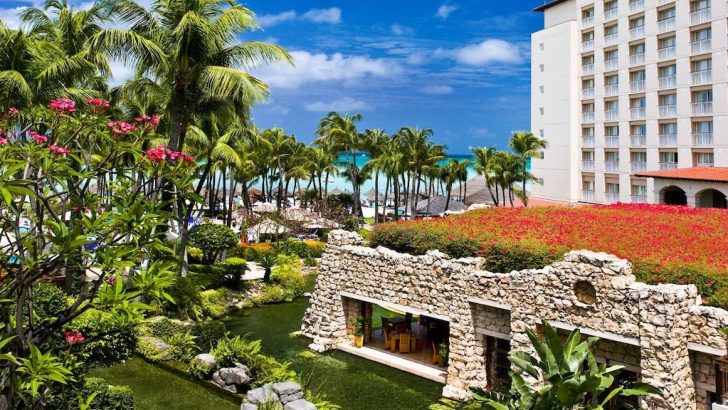 Images: Hyatt Regency Aruba