There are many great reasons that you might be visiting Fiji. it could be the water activities like diving the Great Astrolabe Reef, may be the delicious cuisine, all the natural beauty surround Fiji's 333 islands, ideal surfing, or to play the amazing golf courses there. There is lots more that might bring you here, but relaxing in tropical luxury is enough for most visitors.
Jean-Michel Cousteau Resort is the finest 5-Star luxury resort in Fiji. The Cousteau name ensures a focus on authentic Fijian culture, local cuisine, and the opportunity to experience this unique environment. This resort is for the entire family, business retreats, or for romance. The Cousteau Resort is located on Vanua Levu, the second largest island of Fiji.
It envelopes 17 acres of a coconut plantation on the beautiful waters of Savusavu Bay, and is surrounded by turquoise waters that are designated a marine preserve. You can snorkel or dive, but there is no fishing here. The resort is modeled after a traditional Fijian village, with eco-friendly architecture, steeply thatched roofs and open air, louvered windows.
There are no TVs here or air conditioning, but most of your time will be spent in the water or on the beautiful beaches. Jean-Michel Cousteau Resort resort is for exploring the marine life that abounds in the waters and reefs at this island resort.
Activities here are very refreshing. Since the resort is named for the renowned underwater exploring family, there is a full service dive center that is staffed by highly experienced professionals, with a wide range of experiences in one of the world's best diving destinations. You can go paddle boarding, explore a nearby private island, or stay dry by doing a family hike.
Dining is tasty and sustainably sourced here too. The fish are fresh from the South Pacific, and the herbs come from an onsite organic garden. Other organically grown produce comes from local farmers and is used in making Asian-inspired delicacies. These foods will make you want to spend your time trying as many new foods as possible. When your adventures come to an end, and you just want to relax, consider a spa treatment that uses coconut oil sourced nearby.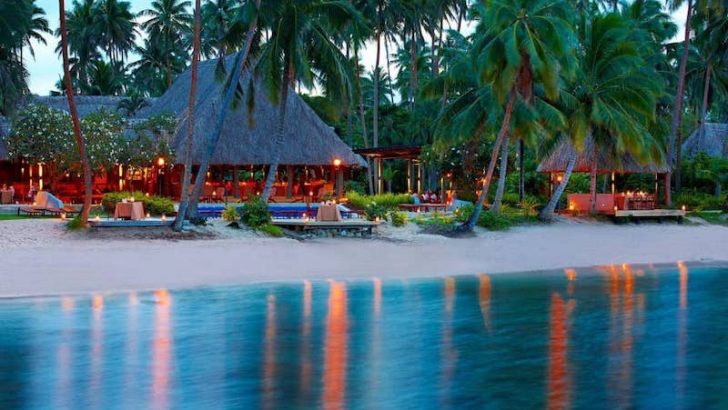 Jean-Michel Cousteau Eco Resort in Fiji is truly a heavenly paradise, and the perfect vacation for those who are interested in eco stays and stunning marine life. You will not have this kind of experience at any other resort. Learn more about this resort and dive center at FijiResort.com.