If you wish there was eternal summer, then we have the vacation for you. Melia Tortuga Beach Resort is in Cape Verde, a group of islands off the northwest coast of Africa. The weather is perfect to escape the North American winter, as the locale stays a balmy 77° F all year. This temperature only varies 5 degrees at anytime, making it great to get some sand and sun.
The environment is rich with Creole-African culture that shows in its foods, and the friendliness of the people there. Guests to Cape Verde enjoy island hopping, a volcanic landscape, local music, colonial heritage, and the awesome sailing that the African winds provide.
When you go to enjoy everything this paradise has to offer, Melia Tortuga is the place to lay your head. It is beachfront, has incomparable suites, awesome swimming pools, and island jaunts that make it vacation enough by itself. Melia Tortuga is located on Cape Verde's Island of Sal that is just a few minutes from the airport.
This means there are no hour long commutes to start your holiday destination. Once you arrive, you can have instant fun on Algodoeiro Beach's white sands, and brilliant blue waters. The rooms here are an attraction as well, with 2-3 bedroom villas and suites with garden and pool views.
The most awesome room is the Level Suite. It is 645 sq. ft of space with sea, and garden view. It has a 42″ flatscreen TV and satellite channels. It is located on the high floor at Melia Tortuga and has a king size bedroom, and another room with two single beds. There is AC, mini fridge, bathroom, balcony, and all the amenities you will need for a luxurious time.
You stomach will never rumble because there is so much great cuisine here, that you will want to try everything, familiar or not so familiar. Melia has 4 wonderful restaurants that serves grilled seafood, and other meats at O Grille Beach, there is Waterside that has all day snacks, and pizzas.
Spice Restaurant serves buffet with show cooking, and finally Aqua pleases the tongue with Mediterranean specialties. There are also 4 bars so you and your fellow visitors can enjoy libations, and give a toast to the good life.
To keep the good old blood circulating, Visit the YHI Spa that has a full range of treatments, full gym, relaxing area, and tea for maximum chill. There are 2 adult pools, and 2 children's pools, meeting rooms, and even a pool bar for a cool sip pool side. At the hotel, there is volleyball, water polo, workshops, aerobics, group fitness, shows, and live music.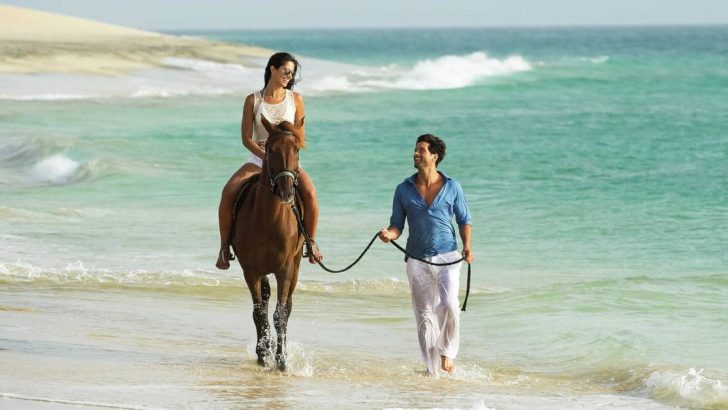 Outside the hotel, there is island hopping, water-skiing, scuba, snorkel, fishing, kayaking, horse rides and anything you can think of to fill your time during this awesome getaway. If what you have read tickles your fancy, or you're long overdue for a faraway vacation, then Melia Tortuga Beach Resort is the place for you.
Images: Melia Tortuga Beach Resort