The Bambu Indah Resort in Bali offers its lucky guests the absolute best of antique architecture combined with modern amenities in a very authentic Balinese environment.
These antique homes were built over 100 years ago and are made of real teak wood. Each has been restored to their original beauty, and all facilities at this amazing resort are open air and true to its Balinese heritage and for the true nature lover only.
This is a very unique experience in Balinese culture where you can try out vibration therapy on the minang harp, relax with a deep healing massage in the comfort of your vacation house or enjoy healthy swimming in the Bambu Indah natural swimming pool that has water so naturally pure you can actually drink it.
There is even an awesome rope swing for those with a little Tarzan in them. You will also share this gorgeous pool with the tiny fish that inhabit it and help keep it pure.
The Bambu Indah is well known for its homegrown, organic veggies and herbs and it is all grown in their amazing gardens, located throughout the resort.
The Dapoer Restaurant features local cuisine prepared with centuries old Balinese recipes, all using the pure produce grown on property…absolutely amazing cuisine and a culinary experience and the homemade bread is to die for.
Many awesome tours are offered through this resort, including village hikes, tours of the bamboo factory, John Hardy Jewelry factory, Green School tour and beloved Balinese blessings. Learn more about this awesome resort by clicking the link.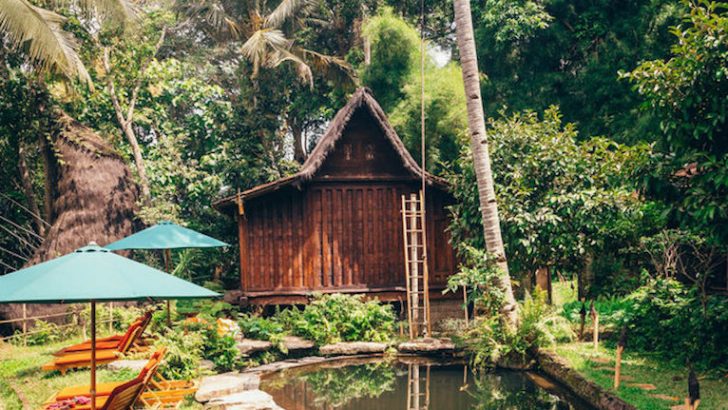 Images: Bamboo Indah, Bali