The Blancaneaux Lodge is ran by the Francis Ford Coppola family and boasts the only Italian restaurant in the jungles of Belize. It offers pure luxury in a remote, private and wild location, and its spot along the banks of the pristine Privasson River allows guests to enjoy the best of what this jungle environment has to offer.
You can explore the nearby 13,000 acre Elijio Panti National Park that is a protected preserve so guest for many years into the future can enjoy the mountains, ancient caves, Mayan Ruins, birds, jaguars, and the flora that thrives there. At the resort you can enjoy surrounding jungle trails on horseback, swim in natural pools, or just lie back in a hammock.
This resort has 20 villas and cabanas that leaves nothing to imagine when it comes to your comfort and enjoyment. There is free Wi-Fi throughout, iPod docks in the rooms, intercom system, hand-made organic toiletries, and even a cottage with a private pool, heated floors and a fireplace.
There is also a stunning infinity pool and a huge horseshoe shaped heated pool. For the adventurous, venture off to some of the hidden swimming holes on the river, or enjoy a natural shower underneath the many waterfalls there.
Dining is an adventure in itself at the treehouse restaurant, Montagna, for authentic Italian food, or enjoy true Mayan dishes served poolside at the Guatemaltecqua. These restaurants take last call at 9 pm, but the Jaguar Bar stays open until you are ready to leave. There is room service until 9 pm as well for snacks and drinks. If you are in search of adventure, relaxation or both, consider this amazing lodge in Belize for your next getaway.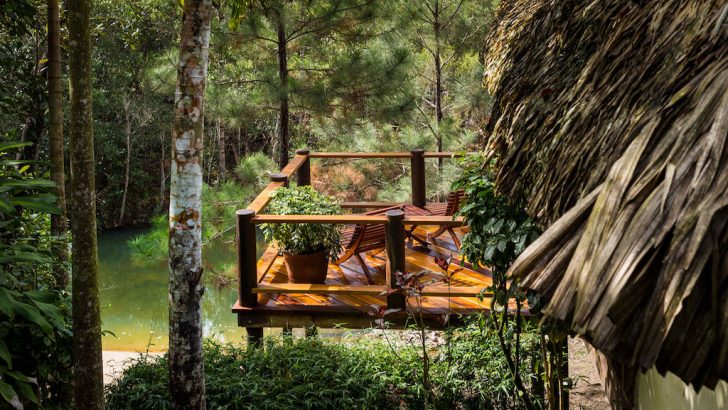 Images: Blancaneaux Lodge Belize