The Hacienda Temozon is a historic grand luxury hotel with all modern amenities, and tradition. Once a 17th century estate, Temozon lies on the Yucatan Peninsula amid tropical rainforest that keeps the secret of the ancient Mayan ruins there. The hotel also has ruins on site as well, so that you can get close and personal with history.
Rooms and suites are spacious at the Hacienda. They are airy and designed with comfort in mind. There are seven room styles here that includes the Casa del Patron. This presidential suite has king bed, a private pool, separate living room, and outdoor terrace in 1248 square foot (ca. 116 m²) of space.
All of the rooms here are unique, and have views of the breathtaking gardens surrounding Hacienda Temozon. You will find extremely luxurious baths with spa quality amenities and huge soaking tubs too. High ceilings and the hacienda atmosphere that permeates the hotel makes guests feel right at home.
There is much to do at the Hacienda Temozon as well. It has the awesome Hol Be Spa, for one, that uses all natural treatments. You can also have your treatment in a sinkhole cave. For other recreation, enjoy the tennis court, pool table, free Wi-Fi, and hammocks. You can pick your favorite spot to relax. Ours happens to be the highlight of the hotel. The stunningly HUGE swimming pool.
You will be able to get your fill of great food at Temozon. The Yucatecan Restaurant overlooks the beautiful pool and the cuisine combines European and Mexican which offers spicy, organic dishes traditional to the region. You can also book a private candlelit dinner in the gardens or among the historical ruins on site.
There is also a quiet little bar, the Gargolas where you can relax with a delicious margarita. If its time for spring or summer trip, set your sights on Mexico's Yucatan Peninsula, and the Hacienda Temozon for their relaxed and luxurious atmosphere, the antiquity, and that amazing pool. You will love it.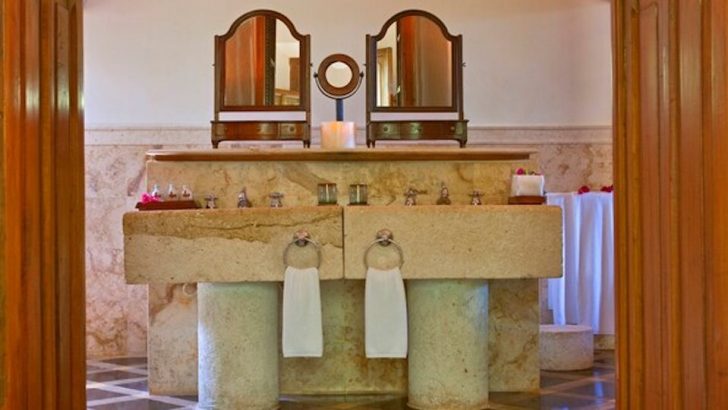 Images: Hacienda Temozon Mexico