Escape the confines of shoes. Go shoeless at Soneva Kiri Resort in Thailand. Koh Kut is the island setting for this vibrant resort that offers absolute peace, comfort, and luxury in a setting of untamed jungle, and unspoiled beaches. The Kiri makes the best of Thailand's rich culture. It is also secluded, and eco-friendly for those who want to make less of a carbon footprint.
At the Soneva Kiri, you have access to a gorgeous private beach and watersports such as kayaking, windsurfing and wakeboarding, not to mention a tennis court surrounded by jungle and a "help yourself" ice cream parlor called So Chilled and So Chocoholic where you can eat your fill of chocolate truffles dipped in a creamy mousse fondue.
Probably the most special thing at this resort to experience is Treepod Dining. This is a gourmet meal that is served to you at a private treehouse table. You get to wine and dine in the Thailand canopy. Even better, your meals are flown over to your table via zipline. This is definitely a one of kind dining experience. If heights aren't your thing, there is the Dining Room, and the Chef's Table for more traditional eating experiences.
The accommodations here are not to be overlooked either. There are 27 large villas from which to choose, that are rustically designed, with private garden pools. The pool areas have great loungers and daybeds surrounding them too. The villas also have the most comfortable king size beds, TVs and open air bathrooms with wonderful soaking tubs. There are also many fun activities for kids too, so families are welcome.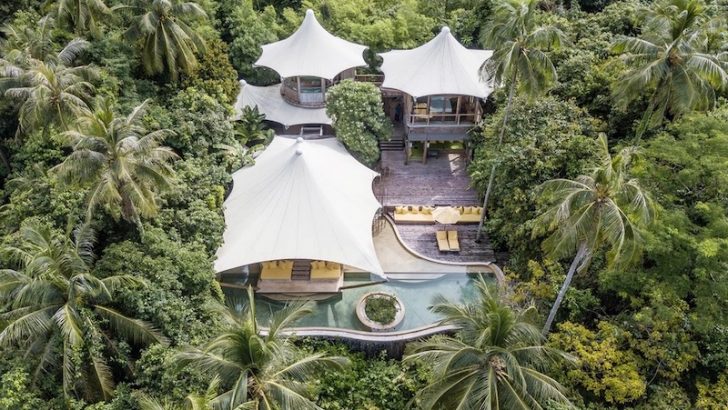 The Soneva Kiri Hotel offers absolute comfort, relaxation and rejuvenation at their Six Senses spa too. It is said their massages are the best around, with treatments like mud massages, Thai herbal baths, silk facials, Ayurvedic oils, and wellness rituals for your overall well being. This hotel guarantees a glorious and FUN vacation for all. Follow the link to learn more.