Luxurious is an understatement at the Taveuni Palms in beautiful Fiji! There are only three spacious two bedroom villas offering complete privacy and pampering each with seven staff members at your beck and call, stylish Fiji design and the most exquisite privately prepared food you have ever indulged in.
When you arrive at this perfect paradise you will be greeted with a glass of champagne and a post-trip massage in the privacy of your villa. Included in the price are all meals, including a five-course dinner, all massages and spa treatments are private in your villa.
Included are guided snorkeling tours, cooking lessons and kayaks, as well as airport transfers. Steps from your villa is a pristine beach, crystal clear turquoise ocean, free bikes and your own private plunge pool!
Your kitchen will be fully stocked and there is also free WiFi so you can stay connected. Each villa also has a private deck and hammock as well as iPod dock, library, DVD/CD player, computer and flat screen TV.
Lounge on your poolside daybed and watch the dolphins frolic in the waves as you sip a delicious cocktail, or play some tennis or golf nearby. Your personal chef will be at your side to prepare a spread of food to suit your wants and desires. This resort is about as private and luxurious as you can get.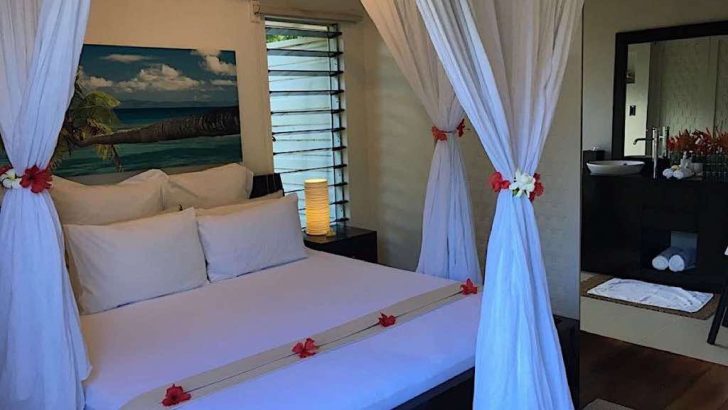 Images: Taveuni Palms Resort